Product Description
TOTO Neorest EW WASHLET: The ultimate brand and washlet technology, manufactured by TOTO the world's largest toilet manufacturer and global leader in sanitary ware since 1917, TOTO for people who know. The NEOREST EW is basically identical to the NEOREST AC – the only difference is that the EW does not feature the self-cleaning Actilight technology. Before use, the NEOREST EW WASHLET sprays the inside of the toilet bowl with water this process greatly reduces the ability of waste to stick to the toilet pan. Once the toilet is flushed, the WASHLET sprays the bowl with electrolysed water. This ewater+ has an antibacterial and cleansing effect. Like the NEOREST AC, the NEOREST EW has a sensor-activated lid which opens and closes by itself, an automatic flush and an adjustable dryer. The heated seat and deodoriser ensure that your visit to the bathroom is more pleasant. The wand jet system for personal cleansing is individually adjustable to suit all users. All the functions, including the water jet temperature, pressure and position, can be simply adjusted using the remote control. In the interest of energy conservation the NEOREST EW toilet seat isn't kept permanently. Instead, a memory function monitors and records the user's preferences for 10 days. The toilet then switches to an intelligent energy-saving mode as require Supplied with ALL key additional TOTO parts required by your plumber for a complete Installation, click view more information tab for full specification and full list of parts included. 2 year TOTO U.K.warranty included (see warranty conditions).
Product Description
TOTO NEOREST EW WASHLET: with wall hung pan, frame and accessories.
The ultimate brand and washlet technology, manufactured by TOTO the worlds largest toilet manufacturer and global leader in sanitary ware since 1917. TOTO have sold over 30 million washlets since their launch in the 1980's. TOTO for people who know. Price includes all additional TOTO key parts your plumber will require for Installation , VAT and U.K. mainland delivery.
The WASHLET in the NEOREST collection is the first WASHLET that cleans itself completely. It actively fights bacteria, waste and limescale while keeping these from accumulating. The NEOREST WASHLET is available in two versions – the NEOREST AC (Actilight) and NEOREST EW (ewater+). Both self-cleaning WASHLETs have the same look and actively attack bacteria and waste. This model is the NEOREST EW.
The NEOREST EW WASHLET sprays the toilet bowl with electrolysed water. This antibacterial water prevents waste from accumulating. The NEOREST AC WASHLET features a toilet bowl coated with a special zirconium coating. The hydrophilic properties of this coating ensure that waste and bacteria are effectively eliminated. The UV light integrated in the lid combines with the zirconium coating to trigger a decomposition process, making a toilet brush unnecessary. The toilet cleans itself and stays clean and hygienic.
The NEOREST WASHLETs also have a number of other convenient features, such as a sensor-based lid that opens and closes automatically, heated seat, a deodoriser to absorb unpleasant odours, and a dryer that can be activated as desired.
A remote control makes all of this technology easy and convenient to use.
The TOTO NEOREST EW is a wall hung model and will require a frame for fixing and attaching to the wall
Washlet Key Features:
ewater+

Auto lid opening: Senses your precence and automatically opens and closes the lid

Rear Cleaning

Feminine wash.

Warm Air drayer

Adjustable water pressure

Adjustable water stream width

Adjustable water temperature

Adjustable nozzel position

Automatic nozzel move -shower

Automatic nozzel cleansing

Aerated wash: Air + water produces enhanced cleaning whilst conserving water. Uses only 2 dcl of water in around 2 minutes.

Heated toilet seat, with 3 levels of temperature settings.

Seat sensor

Air extraction deodorisation through built in filter to neutralise odours

Multi-person presets, saves personal settings for up to 4 people.

Massage Impulse water stream gives the feeling of massage

Auto lid open/closeAuto open/close : Sensor detects user's approach. lid opens and closes automatically

Siphon Water jet Siphon Water jet in a tank-less all in one Wash & Dry toilet system

Instant water heating system Instantaneous ceramic heater enables continuous warm water as well as helping prevent lime-scale build up.

Mechanical water filter built-in permanent Ag Nano water filter, which cleans the water and makes it anti-bacterial.

Deodorization filter

Plastic Composites nozzels

Portable remote control

Single nozzel

Safety devices: Full array of safety devices
Toilet Pan Key Features:
Pan part No TCF994WGE#NW1

Measurements 423 x 679 x 460 mm

Color White

Material WC: Ceramic

Washlet: Plastic

Technologies Auto Functions

Tornado Flush

CeFiONtect

ewater+

Rimless design

Water-saving
General Specification, click image to enlarge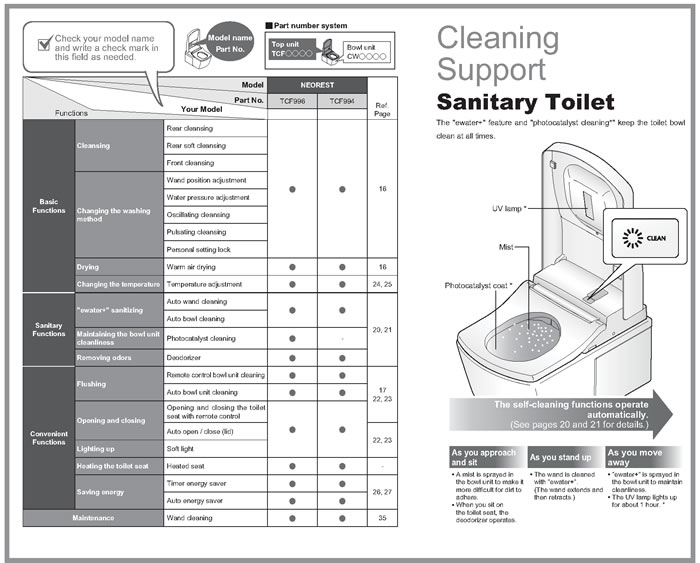 What's included, with price break down (as Nov 2017):
Neorest EW WASHLET (including remote control) TCF994WGE £5099.00

Neorest EW WALLHUNG CW994P £2087.00

In wall cistern frame 1120mm* T9300048 £334

Flush plate (material, Glass) E00003 £119

Motor unit (for automatic flush) E00004 £351

Subtotal: £7990.00

VAT @ 20% £1598.00

Grand Total: £9588.00

*980mm height frame – option T9300051 £ 379.00
The above products may also be ordered individually however this will incur a modest additional delivery charge, please telephone or email and we will be happy to provide a full quotation these or any TOTO U.K. products.
Comes with a 2 year TOTO warranty, see full warranty conditions in the instruction manual viewable by clicking the instruction manual tab in blue text above.
Please click tabs above for specification details, Installation guides and other useful information. Free U.K.delivery in 7 ~ 10 days from receipt of order E.U. from £33 dependent on geographical location, takes 7~ 14 days from receipt of order. All prices displayed INCLUSIVE of VAT